External Provision
Working towards a shared objective to provide safe transport in the community
As well as using our own non-emergency vehicles to transport our patients to their hospital appointments we also rely on the help of other providers.
These providers, whether voluntary or through our Framework 365, undertake scheduled work across Wales.
We are always keen to welcome new providers in, below are more information and contact details if you would like to inquire further.
Yes;
Offer you sustainable work across Wales to enable you to use your resources at quiet times;
Offer flexibility to fit within your busy and quiet periods;
Offering competitive rates;
Help raise your standards through audits and training and offer risk assessments;
Help you achieve your objective as an organization to provide safe community transport.
We have two options available; you can choose to work through one or both, whichever is best for your organization!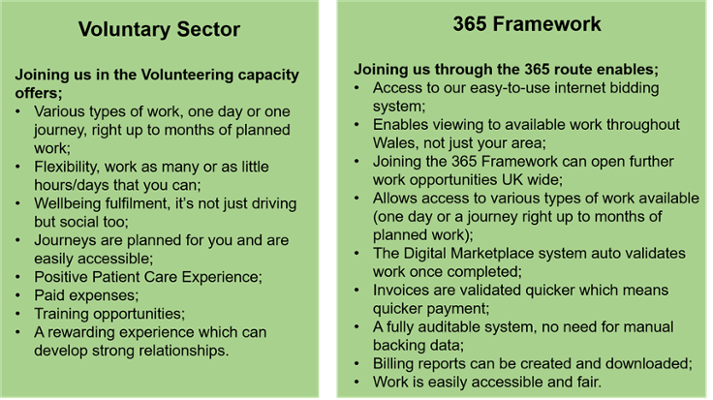 For more information and to speak to one of our team, please contact olivia.barnes@wales.nhs.uk