Become a Community First Responder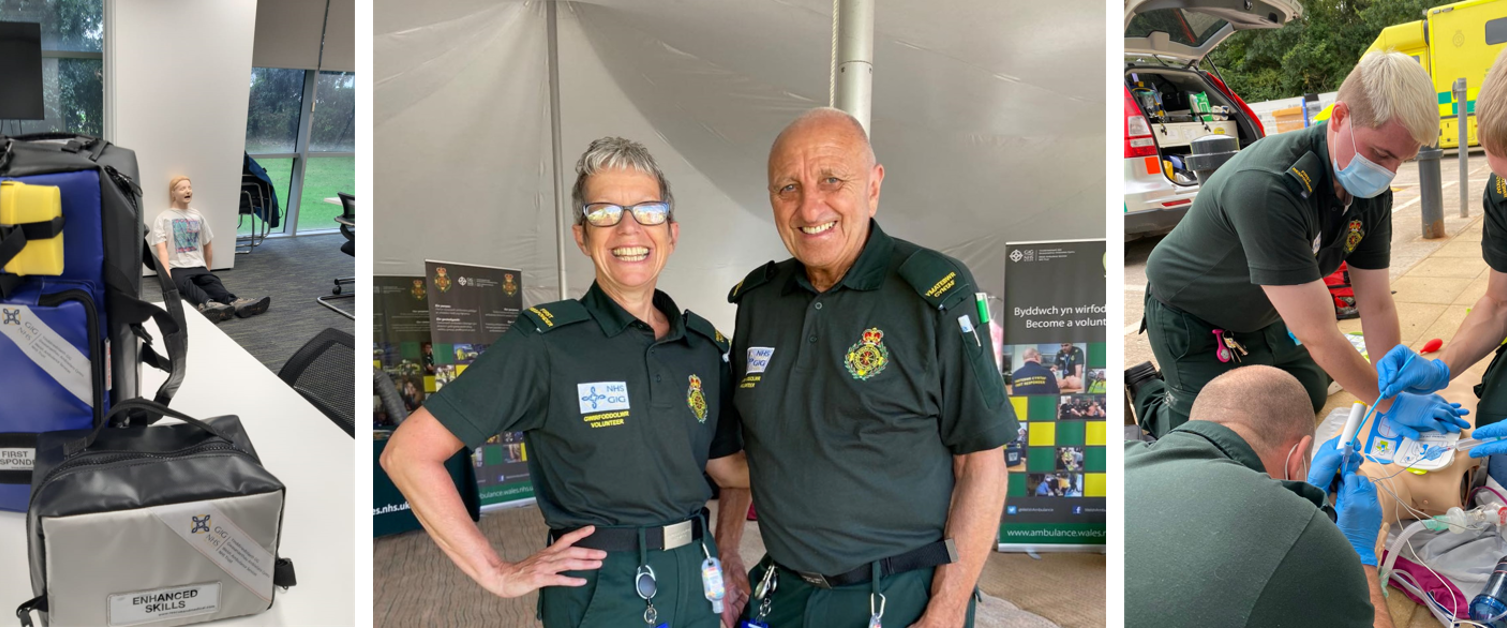 Community First Responders
When a patient faces a serious emergency, every second counts for them and a simple helping hand from a Community First Responder can make a vital difference to their lives.

Community First Responders in Wales are volunteers who donate their spare time to attend appropriate 999 calls and provide first hand emergency care to people in their own community.

When a 999 call is made, Community First Responders are alerted by WAST's three Clinical Control Centres (CCC) and are sent to specific types of calls in their local areas where they live and work, often attending the scene of an emergency within a few minutes providing essential care until a clinician reaches the scene.

Why we do it?
Bargoed CFR - Daryl Harries - As a Community First Responder we give of our valuable time, free of charge to help our local community in their hour of need. When illness or injury occur, time is of the essence to save lives. Community based CFR's attend our patients in a timely manner to offer our life saving skills or just a listening ear to instil confidence that help is at hand. Helping our community in our special way is immensely rewarding and satisfying to us all.
Pontypool CFR – Steve Adams - I have always worked with the emergency services and being a First Responder allows me to interact with people on a professional basis. I know the difference that a friendly face while dealing with distressed people is sometimes as good as any medication. It is nice to be able to make a difference
Llanvaches CFR – Pete Richards - There is no better feeling than knowing you have made a difference to not only the patient but their family and friends. I still meet a man who I attended over ten years ago when he had a sudden cardiac arrest, and he is still active and enjoys his new grandchildren. A privilege to be part of a team that gave him and his family a future. In big and small ways this happens on almost every call a CFR attends.
Aberfan CFR – Nathan Fear - A rewarding role, helping the local community often at a time of urgent need. It is a satisfying to be a part of the ambulance's family doing what we can to support urgent healthcare, with excellent support and training.
Could you become a Community First Responder?
You do not need to have any previous medical training to become a community first responder (CFR). We have volunteers currently from all backgrounds including teachers, farmers, nurses, and people who have retired and looking for a new challenge.

Volunteers should:
Enjoy a challenge?
Be good under pressure and remain calm in an emergency?
Be proud of the community in which you live and want to give something back?
Have free time to spare?
Be willing and ready to learn essential lifesaving skills?
Have a full driving license?
Be physically fit?
Over the age of eighteen?
Training
Community First Responders are trained and supported by annual in-service training by the Welsh Ambulance Service NHS Trust. Training consists of a five-day course covering anatomy, physiology, traumatic and medical emergencies, basic life support and defibrillation.
What's next?
If you think you are the right person for this volunteering opportunity, interested in becoming a Community First Responder, please fill out the expression of interest form. When we have a course in your local area, we will hold a volunteer open day where interviews and the screening process comprises a Disclosure and Barring Service Check (DBS), professional references and occupational health clearance.

Expressions of Interest (Volunteering) https://forms.office.com/e/9VsR7pQ2ZD

Datganiadau o Ddiddordeb (Gwirfoddoli) https://forms.office.com/r/fU39Y1byXt

Or scan one of the QR codes:
Alternatively, applications are received online, through the NHS Jobs website. Please keep checking this page to see when the next advertisement is open, or you can create your own role search on NHS Jobs HealthJobsUK | trac.jobs to receive an email notification.
Any further questions please contact the team – Amb_volunteer.cfr@wales.nhs.uk